Your apps are automatically organized in folders that you choose, keeping your homescreen neat. Folders also contain convenient cards with articles, videos, and more.
Prediction Bar™
Delivers the apps you probably need right now, according to your context. For example: news apps in the morning, a call you missed from a friend, or the train schedule when you leave work. The more you use your phone, the more accurate your Context Bar will get!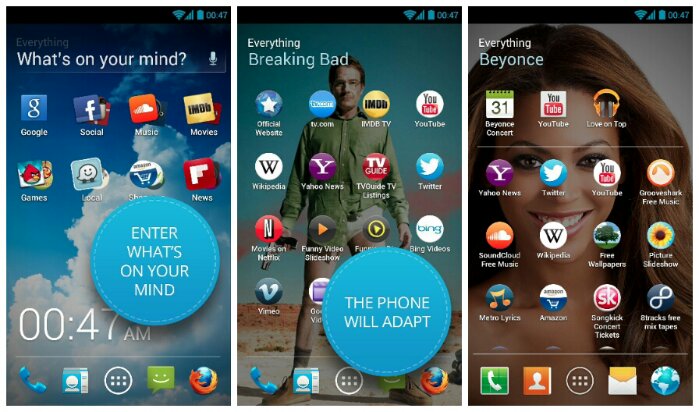 Lightning Fast Search
The quickest, most personalized search tool for Android. Enter one letter in the search bar and get contacts, apps and web results – no more swiping through multiple screens!
Contextual App Discovery
Your launcher makes sure you know about new apps that you might like. You'll find recommendations in your folders, and a variety of personalized suggestions in the App Wall. No need to search through millions of apps in the store – your launcher will help you discover great matches for you.
Everyday Uses
► Search for a contact by tapping just one letter in the search bar. Tip: you can drag and drop any item right to your homescreen, anytime.
► When you're out and about, see nearby restaurants, transportation and venues in your 'Around Me' folder.
► When you've got a few minutes to play, check out the App Wall and find cool new games without having to search any app store!
The Buzz
"Everything.me May Be the Smartest, Most Dynamic Android Launcher Yet". ~ LifeHacker.com
"One app made me love Android and BLOWS AWAY iOS. One app." ~Robert Scoble
Follow Us
Twitter: https://twitter.com/EverythingMe
Facebook: https://www.facebook.com/everythingme
Contact Us
Need help with EverythingMe Launcher? Visit our Help Center http://support.everything.me
We introduce features gradually, therefore some elements of the launcher may not yet be available in your location. Please contact our support team if you have any questions about feature availability.
Want to help us translate EverythingMe to your local language? Register here http://bit.ly/translateEvMe
WHAT'S NEW
► Discover top trending new apps right from your homescreen
► Folder styles – Try the new Grid view!
► Lollipop redesign
► Icon pack support
► New languages – EverythingMe is now available in Hungarian, Korean and Turkish
► Performance boost and optimizations
► Bug fixes
This app has no advertisements
More Info:
https://play.google.com/store/apps/details?id=me.everything.launcher
Download Instructions: